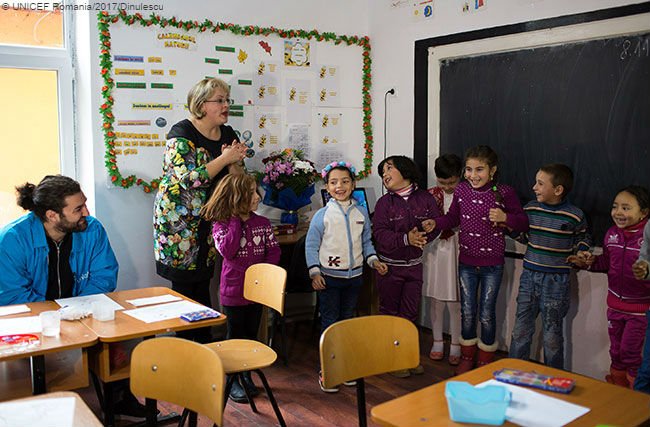 BUCHAREST, 16 September 2016 – During 15 September – 15 October 2016, Carrefour and UNICEF in Romania continue their efforts to support education, for the third consecutive year, by organizing a fundraising campaign. Carrefour customers shopping in the 30 hypermarkets available all over the country can choose to donate 1 leu at the cashier and help disadvantaged children to attend school and receive a quality inclusive education.
In Romania, around 300,000 children are out of school and one out of five children fails to complete eight years of study. Moreover, nearly 40% of the 15 year-old students were assessed as functionally illiterate, according to the 2012 PISA test results. The children most at risk of dropping out of school are those from poor families, Roma communities, rural areas and children with disabilities.
In response to these issues, UNICEF and its partners has been testing the Quality Inclusive Education Package in 45 schools from Bacău county. This package addresses both the quality of education and the school participation of all children, especially vulnerable ones. It includes child-centred interventions at school, family and community levels. The education package is universal, as all students and all schools can benefit from the respective interventions which focus on preventing non-enrolment, absenteeism, dropout and early school leaving, as well as on increasing learning outcomes and competencies.
"This school year as well, we continue to support children and their families to confidently access education. The best way to succeed in life is through education, however many children are hindered by poverty, their biggest challenge. We are happy to join UNICEF once again in its effort to provide these children with a chance to enjoy a better life, including an affordable and quality education. The UNICEF endeavour allows us yet again to prove that we are a lasting partner in providing support to the local communities we work in. The fundraising campaign is based on our customers' generosity in giving one leu at the cashier and coming to the aid of children and their families", said Andreea Mihai, Marketing&Communication, PR&Solidarity, Trade Dynamics&Pricing Director, Carrefour Romania.
The fundraising campaign benefits from the support of Ms. Andreea Marin, National Goodwill Ambassador for UNICEF in Romania.
"Results in education are visible in the long term and sustained investment is required to generate change. We are happy that, each year, Carrefour and its customers support vulnerable children's participation to quality education. In schools in Bacău county, I have met children, parents and teachers who are proof that improved child education is the result of a partnership between school, family and community", said Ms. Despina Andrei, Communication and Fundraising Manager, UNICEF in Romania.
Funds raised through this campaign will go to strengthening the capacity of the school management and teachers to support each and every child, according to their needs; improving teaching methods and tools; partnering with families and increasing parental skills; mobilising communities to support education; enhancing children's non-cognitive skills and motivation; encouraging diversity of students regardless of gender, ethnicity, religion, (dis)ability and socio-economic background. The objective is to ensure that every child enrols in school at an early age, learns to the maximum of his/her potential, and is prepared for the labour market and active citizenship.
Carrefour is one of UNICEF in Romania's long-term partners and, over the years, Carrefour customers have helped 15,000 children from 32 schools to receive education as part of the School Attendance Initiative. Thus, in some of the schools, all children succeeded in completing the courses, while the dropout rate went down to 0%.
***
About Carrefour: 
With over 10,100 stores in 34 countries, the Carrefour Group is the second largest world retailer and the number one retailer in Europe. For more than 50 years, Carrefour has been a partner in one's daily life. Every day, the retail group welcomes to its stores more than 10 million customers worldwide, providing them with a wide choice of products and services at fair prices.
In Romania, Carrefour Group includes 281 retail stores of which 30 'Carrefour' hypermarkets, 111 'Market' supermarkets, 43 'Express' convenience stores, 10 'Contact' convenience stores, one online store (www.carrefour-online.ro) and 86 Billa stores.
About UNICEF in Romania
UNICEF is present and active in Romania and in 190 countries and territories to help children survive and thrive, from early childhood through adolescence. In Romania, UNICEF works closely with key stakeholders such as the Government, Parliament, local authorities, civil society, the private sector, national and international partners and the media to provide all children with access to quality early and school education, to protect adolescents and monitor child rights, to ensure social protection and leverage resources for children.